There is a reason why I'm calling this "Easy Pita Bread." Did you know that pita is probably the easiest bread recipe to master? Yes, even the most novice of cooks shouldn't be intimidated! Truthfully, the only challenge you might need to overcome is making sure the pita puffs up to form a "pocket." Luckily, even if it doesn't puff up, it will still taste amazing. Simply fold it in half and eat it like flatbread! But it's a good thing that I'm a perfectionist. Using my "fails" to your advantage, I'm here to make sure you achieve the perfect "puff" every time!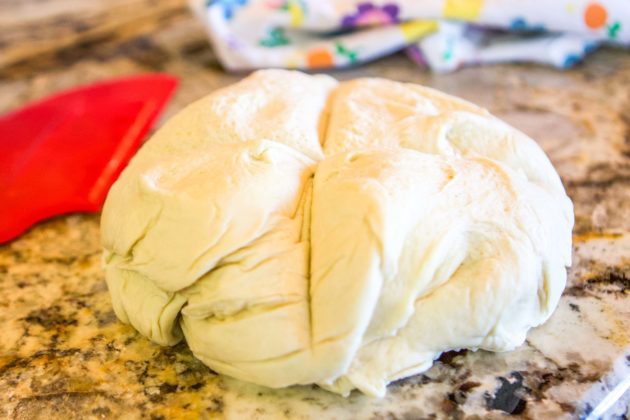 What Flour to use in Pita Bread, Wheat or White?
Although I prefer using all-purpose flour in my pita bread recipe, sometimes I add whole wheat flour too. For example, try substituting 1/2 cup of wheat flour for 1/2 cup of white flour. Although I have never tried making 100% whole wheat pita bread, I have substituted as much as half of the white flour with wheat. The end result was still good, but not as good as white flour, in my opinion. Pita bread made with white flour is softer and more pliable.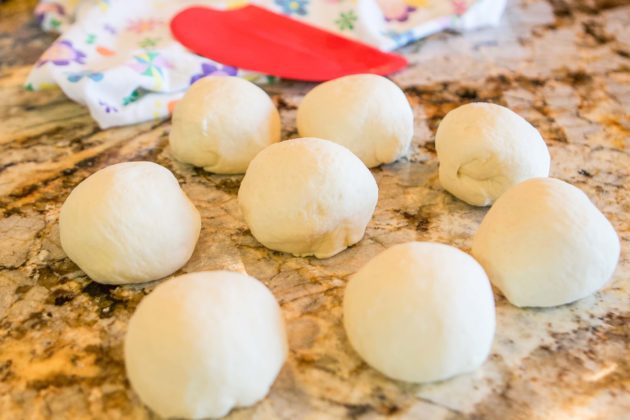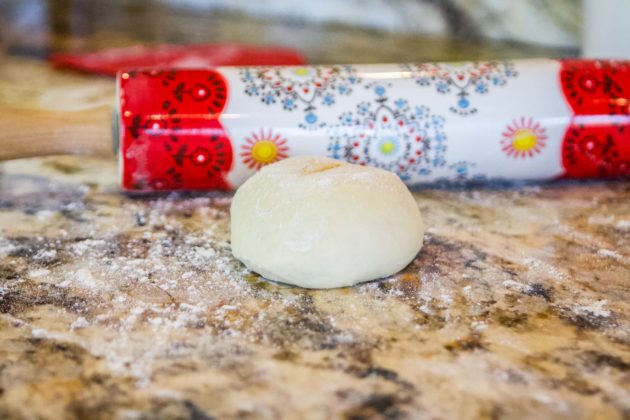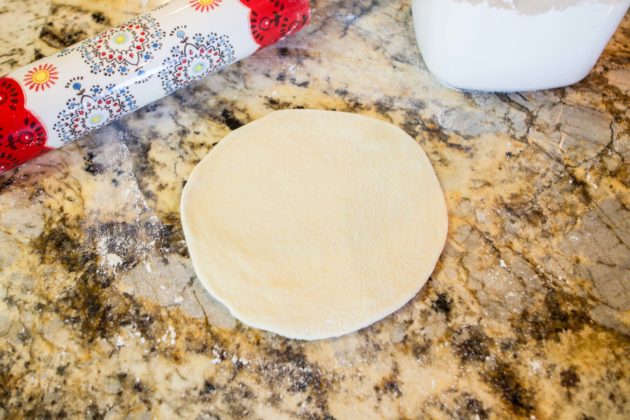 Should Pita bread be cooked on the Stovetop or in an Oven? 
Recently, I have noticed a trend of cooking pita bread in a cast-iron skillet on the stove, versus baking them in the oven. I have given this method a few tries and have found that the pita does not puff up most of the time. Sure you might have an occasional puff, but I don't like those odds. Leave the pan method for making flatbread and tortillas. Instead, cook the pita in the oven, for a perfect puff every time!
How Long Should You Cook Pita Bread? 
When baking pita bread, set your oven to 500°F. Cooking with a lower temperature for a longer period does not achieve the same great results. Either a pizza stone or a cast-iron skillet is a must for this recipe. Whichever you decide to use, be sure to heat it in the 500°F oven for 15 minutes first. How long should you cook the pita? Let's just say I have experimented enough for the both of us. I have found that cooking the bread for three minutes, then quickly flipping over for an additional minute helps to achieve the perfect puff.
Ways to Enjoy Pita Bread
The question isn't what does pita bread go well with. The question is, what doesn't go well with it? For example, you can eat pita bread by itself, with butter and jam, or with a cup of tea, olives, and some buried cheese. Or maybe you'd prefer stuffing it with falafel, or dipping it into some tasty hummus? I can go on and on, but as you can see, the possibilities are endless. So, what do you say I show you how easy it is to make perfect pita bread at home?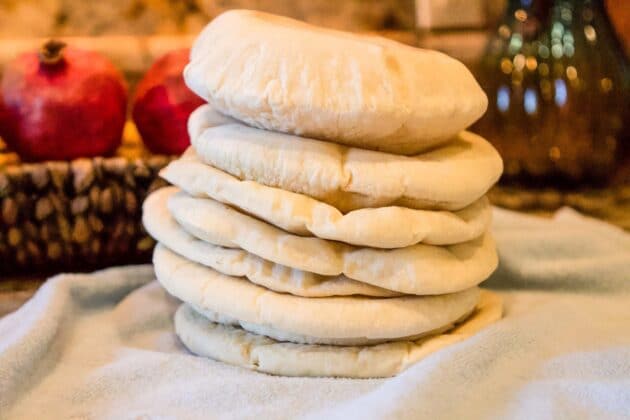 Follow these few simple, yet necessary steps, and you will be baking pitas like a Middle Eastern grandma in no time!
Do you Pinterest? Please pin & share!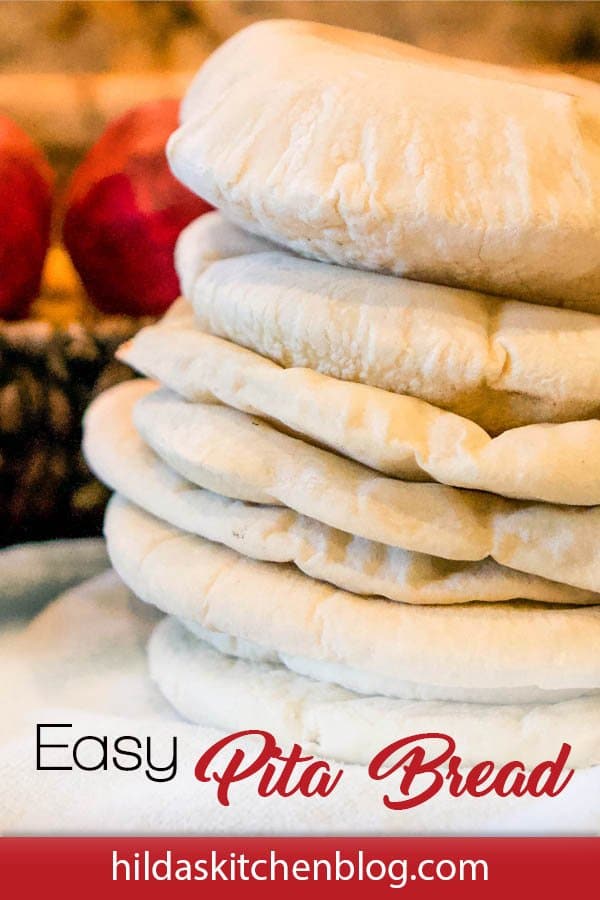 ---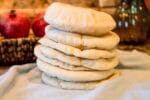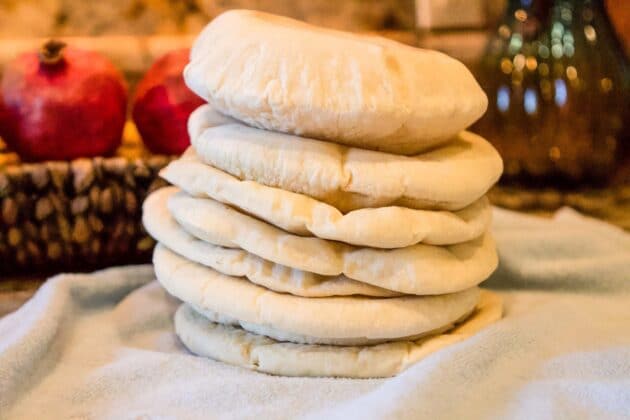 Easy Pita Bread
Easy pita bread that puffs up every time!
Course:
Side Dish, Snacks
Cuisine:
Assyrian, Greek, Middle Eastern
Ingredients
2-1/4

tsp.

yeast

(or 1 packet)

1-1/2

cups

warm water

1

tsp.

honey

4

cups

flour

1-1/2

tsp.

salt

1-1/2

T.

olive oil

(divided)
Instructions
Dissolve yeast in warm water. Stir in honey and set aside for five minutes, or until the water is frothy.

Combine flour and salt in large bowl. Make a well in the center and add the yeast and water mixture, along with one tablespoon of the olive oil.

Stir with a wooden spoon until mixed. Knead by hand, or use a mixer with a dough hook attachment. Mix until the dough is elastic and smooth, approximately five minutes.

Add dough to a bowl, coated with the remaining oil. Roll the dough to coat evenly with the oil. Cover with a towel and allow to rest in a warm spot for two hours.

Divide the dough into eight equal portions. Cover and allow to rest for 15 minutes.

Remove the top racks from the oven, leaving only the lowest rack. Place a pizza stone or a cast-iron skillet on the bottom rack of the oven. Preheat the oven to 500°F.

Lightly flour your work surface. Roll out one portion of dough at a time into an 8" circle, leave the remaining portions covered.

Using a spatula, transfer the rolled out dough onto the pizza stone or cast-iron skillet. Set timer to three minutes.

After three minutes have elapsed, turn the pita bread over with a spatula and cook for an additional minute.

Place the cooked pita bread into a paper bag and close the bag. Do the same with the remaining dough. The pita bread will stay soft if you cool it off in the paper bag.

Another option is to wrap the warm pita bread in a clean dishtowel. Repeat with the remaining dough.

Place cooled pita bread in a ziplock bag and store in the refrigerator. Heat in a toaster or a pan before serving.
Nutrition Facts
Easy Pita Bread
Amount Per Serving
Calories 255
Calories from Fat 27
% Daily Value*
Fat 3g5%
Sodium 445mg19%
Carbohydrates 48g16%
Protein 7g14%
* Percent Daily Values are based on a 2000 calorie diet.