Looking to kick up your game with a tasty and healthy dip for Super Bowl? Have I got the perfect recipe for you! You'll score big with this healthy Dill Dip For Veggies recipe. This versatile recipe can be served in many different ways. For instance, you can serve this yogurt dip with an assortment of chopped vegetables. Or, if you want to splurge a bit, you can serve it with pita chips; no one counts carbs on game day, right?  Or maybe you plan on using it as a dressing, or as a  dipping sauce for some hot wings?  This sauce is also perfect to drizzle over falafel instead of tahini sauce. It's really up to you; all those options are possible and more.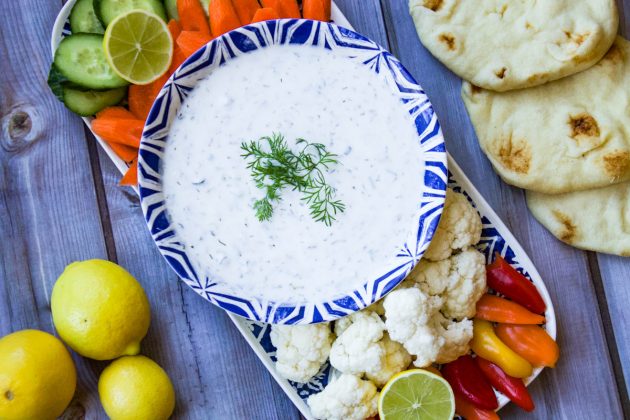 Dill Dip For Veggies
Although Greeks are known for their yogurt dip, or "tzatziki," it's also quite popular in the Middle East. Assyrians make a similar recipe called "treeda" (yogurt with dill and cucumber, eaten over chunks of bread). It is commonly eaten on Wednesdays and Fridays when abstaining from meat. Treeda also describes other dishes in which stew is served over bread chunks. If this idea sounds strange, consider how we serve spinach dip in a bread bowl, with torn pieces of bread on the side. Perhaps "treeda" was developed out of necessity; for those times when rice wasn't available. It is common in the Middle East is to serve stews over white rice. Masheh (bean stew) is a perfect example of a stew that's sometimes served over rice, but more often as "treeda."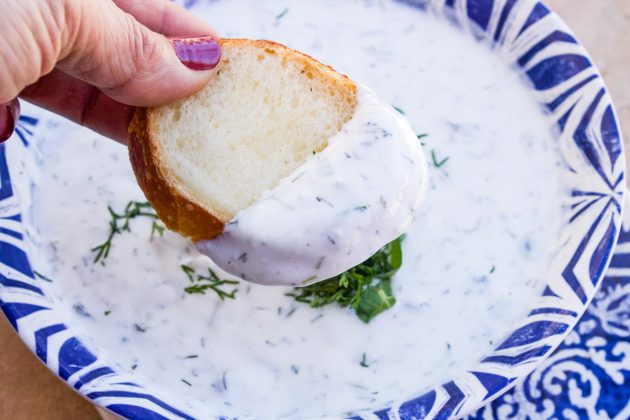 How To Make Dill Dip For Veggies
To make this Dill Greek Yogurt Dip, start off with plain yogurt, for example, my homemade yogurt recipe. Or you can just as easily use a good quality Greek or Middle Eastern yogurt. Just be sure to use plain or unflavored yogurt; I have on more than one occasion accidentally grabbed vanilla instead of plain. I suppose this is another good reason to make your own yogurt? Next, chop or mince the cucumber, scallions, fresh mint and dill, then mix in with the yogurt. Although some people add pepper, I don't feel that it goes well in this recipe. However, do add salt, ranch seasoning, dill weed, and lemon juice. Another common ingredient in yogurt dip is garlic. Although I love garlic, I left it out of this recipe for the sake of my daughter. However, if you like garlic, one or two crushed cloves are a perfect addition.
For other dip recipes check out the following recipes:  Creamy Purslane Dip, Smoked Salmon Dip, Roasted Eggplant Dip, and Mexican Bean Dip.
Be sure to check out my Healthy Mediterranean Recipes post!
Do you Pinterest? Please pin and share this recipe!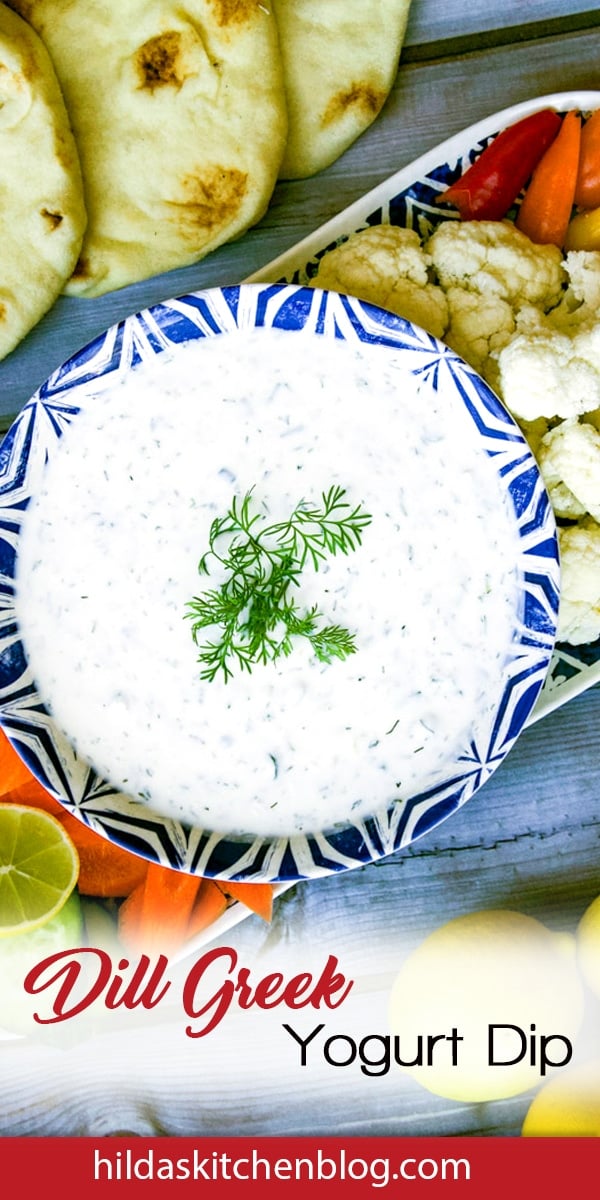 IF YOU LOVE THIS RECIPE, PLEASE GIVE IT 5 STARS!
---
Dill Dip For Veggies
Enjoy this Dill Dip For Veggies with not only veggies, but pita chips too!
Course:
Appetizer, Appetizers, Condiments
Cuisine:
Assyrian, Greek, Mediterranean, Middle Eastern
Ingredients
1-1/2

cups

Homemade or Greek yogurt

1/3

cup

cucumber

(minced)

1

T.

fresh dill

(diced)

1

T.

fresh mint

(diced)

1

scallion

(diced)

1

tsp.

dill weed

1

tsp.

ranch seasoning mix

1

tsp.

salt

2

tsp.

fresh lemon juice

1

tsp.

lemon zest
Instructions
Place yogurt in a bowl. Stir in the prepared vegetables and herbs.

Add the remaining ingredients. Stir until combined and refrigerate until ready to serve.
Nutrition Facts
Dill Dip For Veggies
Amount Per Serving
Calories 85
Calories from Fat 18
% Daily Value*
Total Fat 2g 3%
Cholesterol 11mg 4%
Sodium 791mg 33%
Total Carbohydrates 13g 4%
Protein 4g 8%
* Percent Daily Values are based on a 2000 calorie diet.